We've inherited the biggest garden we have ever owned.
It's MASSIVE.
And on top of that we have an orchard on the other side of our house.
Honestly, I struggle to keep house plants alive so managing a garden this size was always going to be a challenge. A
twitter buddy
told me he had the spiritual gift of 'horti-killing' and if I'm honest in the past I felt like I too may have been blessed with this 'gifting'.
I think I have discovered something that redeems the garden for people like me though, and apparently it's not even that revolutionary. Turns out perma-culture specialists have been doing it for years.
Let nature do the hard work for you.
It all started when I was trying to find out how to grow food for my family organically - I started to come across the idea of poly-culture planting (eg planting crops with other crops instead of having large blocks of one type of plant/vegetable - this prevents disease spreading through your whole crop). Then I discovered
Geoff Lawton
. He's taken them down now, but for a while his site had a free video each week teaching the basics of permaculture and I was hooked. I discovered a new word I didn't know - perennial.
Turns out there are loads of plants where you don't have to sow them every year. The ultimate lazy farming - plant it once, harvest forever.
Fruit trees (such as my orchard) are obvious examples of stuff that you can harvest with minimal effort each year.
As I started looking into what other perennial plants were edible I came across
Eat The Weeds
- and I got a whole lot lazier.
You see, I think the blogger is talking about foraging, but what I heard was something different. You say 'invasive'; I say 'abundant'. If I sow these 'weeds' in my garden, they are going to keep springing up over and over again no matter how much I cut them (think mint!) and I can't kill them.
That sounds perfect - I'll have enough to feed my family, enough to feed the
chickens
and probably enough to mulch with too!
A garden full of weeds sounds a bit odd, but the more I researched the more I found that many of these 'invasive weeds' are actually quite beautiful. I love the idea of having salads full of flowers in the summer and the garden will look pretty too.
Even our pond has been planted up with all kinds of edible plants so that we can feed ourselves and our pets from the abundance that nature provides (for more edible pond plants check out my
pinterest board
), and yes, a pond/bog garden is a permaculture technique I learned so that I could be even lazier about watering and caring for my perennial food garden.
Our garden is largely shade, but that doesn't mean we can't easily grow food - in fact plenty of 'weeds' love to grow in the shade.
Here are some of the plants we've sown so far: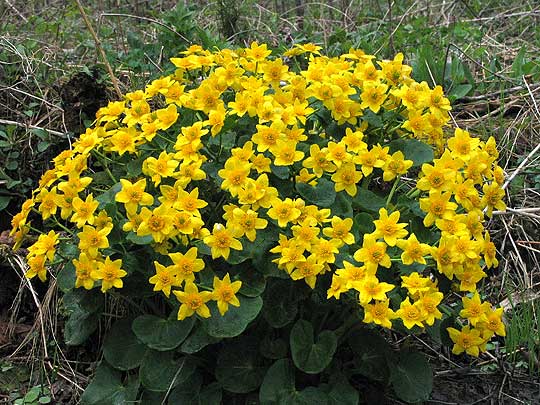 Marsh Marigold
And although they are technically a perennial, himalayan balsam is a beautiful and hardy annual, which is
invasive
abundant in nature and also edible and comes in a range of colours with edible seeds that taste like a peppery popcorn apparently.
It will be interesting to see how the children take to the new flavours (admittedly it's not your standard carrots and tomatoes - I've planted a few of those too!) but I'm hopeful that if I let them pick their own salads they'll be inclined to widen their palates and we can always throw some home made salad dressing over anything that doesn't taste good!
Of course you could always go foraging to find these treasures, but:
a) I'm not good enough at plant identification to feel totally safe to feed food I found to my kids. By planting it myself I know it's definitely what I think it is!
b) If it's in my garden it's easy to grab fresh whenever I need it. This is lazy foraging as much as lazy farming.
What I love most about this is how it fits with my theology. A lot of these plants are higher in antioxidants and vitamins than many of the traditional annual plants we grow. I love the idea that The Creator created things that were good for us, and made it easy for us to nourish our families. With literally no effort on our part these plants are colonising our gardens. We've got so far away from God's provision that we don't even realise that the dandelions we are busy pulling up and throwing out are medicine, food, and nitrogen fixing for the soil so that we can grow other edibles more easily.
Plus they are beautiful.