Graham Stuart recently attaked local councils over their extra-legal interference with home educators. You can read a summary of it on the Conservative Home's website.
I read it through and thought 'So?'
To be honest, I don't really care if someone comes and inspects what we are doing. I know we aren't doing anything wrong, and that my children are recieving a suitable age appropriate education. But then I started reading the comments below the article (and you should, they are better than the article itself!) and I started to have my opinion changed.
Who has the right to decide what is 'age appropriate' for my children? The LA? The LA who's state sponsored schools regularly deliver us children with less than 5 GCSE's? I'm not convinced they know.
Our schools are constantly under delivering and failing our children. The LA don't seem to know how to change that, so why do they think that children who are being homeschooled would be better off there?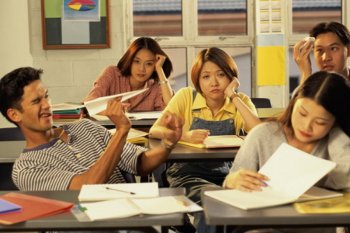 Then there is the issue of child abuse. People say that if home educators don't regularly show samples of their child's work, they could be abusing their children. How does a piece of paper with an essay on it prove that I am/am not abusing my child? Are there not more children in school abused every day? Are there not suicidal children being bullied by their peers? If that's not true, then why all the anti bullying campaigns on radio 1?
Are there not children who are physically and sexually abused by older children and even in some cases teachers? I've heard it referred to as 'fagging' and have been assured by several people from various schools that it's 'normal' and just a 'part of life'. Boys will be boys and all that.
Children under my care will never experience that, but the LA isn't able to promise me the same, and yet they want to inspect me?
Graham Stuart also points out the fact that parents of schooled children are not inspected during the school holidays. They have months of free reign to attack their children, but no one is suggesting they would be.
In the comment section of the article someone states that the case of Victoria Climbie should be reason enough to inspect home educators, and yet the facts of the case (according to Lord Lamming) are:
"On the second day she and Kouao were in this country Kouao and Victoria visited the homeless persons' unit in the London Borough of Ealing.
"In the months which followed Victoria was known to no fewer than four social services departments, three housing departments, two specialist child protection teams of the metropolitan Police.
"Furthermore, she was admitted to two different hospitals because of concerns that she was being deliberately harmed and was referred to a specialist Children and families centre managed by the NSPCC. All of this between 26th April 1999 and 25th February 2000."
She was known, to many, many people. It's true that she wasn't in school, but it's clear that not being in school didn't mean she was hidden away.
As a home educator, my children regularly see doctors, nurses, health visitors, librarians, sports coaches and in the last month even an educational psychologist. Are they not better placed to make a report to Social services than someone who has looked at a picture they painted or a notebook they've been working in and decided whether or not they were in danger?
So cut the excuses. Why do the LA really feel the need to inspect my child's work?